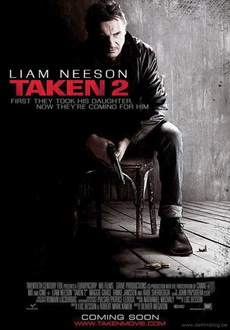 92 min - Action | Crime | Thriller


OPIS / Bryan Mills, emerytowany agent CIA agent, który nie cofnął się przed niczym by uratować córkę Kim z rąk albańskich porywaczy. Tym razem zostaje porwany razem z żoną podczas rodzinnych wakacji w Stambule. Przy użyciu zaawansowanych technik znanych siłom specjalnym Brian stara się zapewnić bezpieczeństwo swojej rodzinie.

PLOT / Bryan Mills, the retired CIA agent, stopped at nothing to save his daughter Kim from Albanian kidnappers. The father of one of the kidnappers has sworn revenge and takes Bryan and his wife hostage during their family vacation in Istanbul. Bryan enlists his daughter to help them escape.

INFO / Director:Olivier Megaton Writers:Luc Besson (screenplay), Robert Mark Kamen (screenplay) Stars:Liam Neeson, Famke Janssen and Maggie Grace